for children
Ukulele classes to release your happy!
Start bookings now
Ukulele classes


Ukulele classes for 0-5s, after-school clubs, kid's parties, a parent choir & online lessons.
Quotes from happy parents
"My 2 year old LOVES Ukeboxbaby and really looks forward to it.There is plenty of interaction and lots of instruments provided to keep the little ones engaged. We practice at home and it is really encouraging his love of music. Honey and Zee are great facilitators, I highly recommend coming along!"

Kate & Lennox
"This is Robert's absolute favorite music class! He truly enjoys playing the instruments and listening to music with other children, the sessions are interactive and loads of fun. We are looking forward to attending the next term."

Psofia & Robert
Lilly comes home buzzing about her uke lessons. They are, hands down, her favourite after school club. We can't wait to see her and the rest of the group perform at the end of term

Marita
About Ukeboxbaby
Hi! We are two local mums, Honey and Zee, who love music and are on a mission to spread the joy of music to growing minds. I am a singer; I have sung with the likes of Saint Saviour, the lead singer of Groove Armada, and Shlomo, the world famous beat boxer, at festivals and nightclubs in London including Lovebox Festival as well as doing a variety of backing singing on albums. I learnt to play the ukulele 8 years ago at London's world famous ukulele shop in Old Street, 'The Duke of Uke'. My music class partner, Zee is also a local mum who is passionate about the arts and learnt to play the ukulele with me. Zee is an expert props and costume designer for our baby and toddler classes which adds something truly magical and brings our musical stories to life. In our baby and toddler classes we perform ukulele children's songs as well as your favourite pop songs, whilst telling a variety of famous children's stories.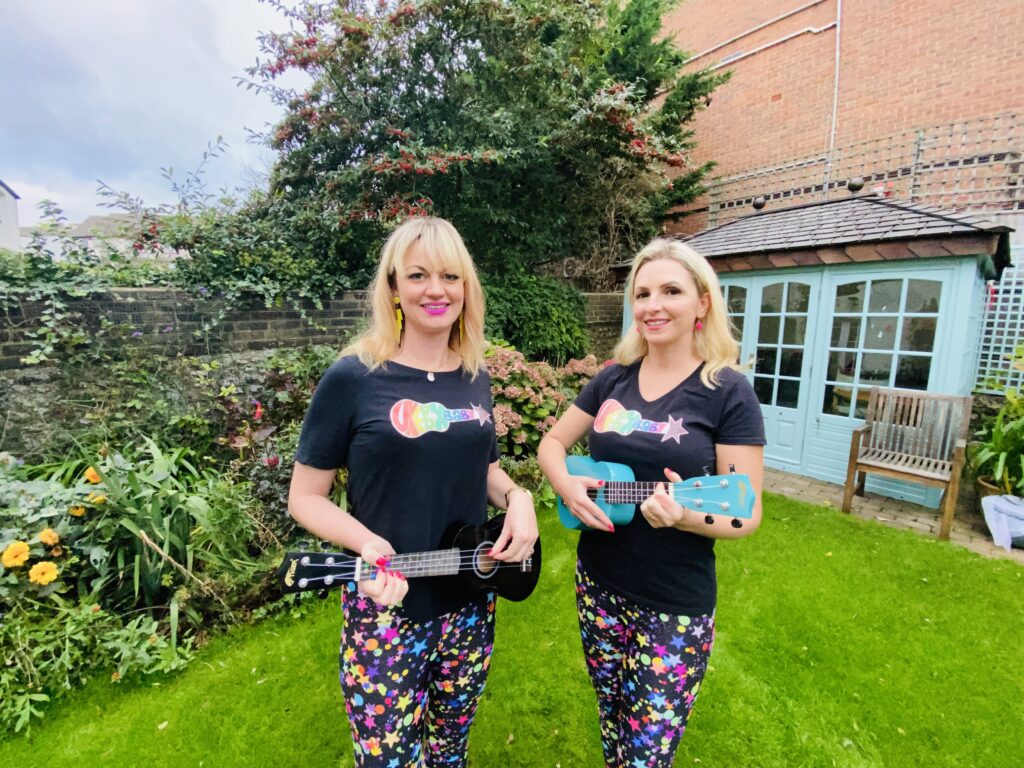 Why learn the ukulele?
Making music has been proven to be so good for your well being. In fact, research has revealed that it:
Boosts brain function (Massachusetts Institute of Technology)
Strengthens speech processing (North Western University)
Magnifies memory (Frontiers in Neuroscience)
Promotes empathy
Fosters maths and science ability (The journal of Educational Psychology)
Improves motor skills (Concordia University in Montreal)
Elevates mental health
Relieves stress
Boosts immune function
I could go on…the benefits to children and adults alike are endless. It's important to highlight that it is making music, not listening, that causes these positive effects.
The ukulele is a small, portable, relatively cheap and relatively easy instrument to master.It's a great instrument to start to learn.
Playing the ukulele makes me happy. It might make you happy too, so why not have a go today and release your happy?
Follow me on Instagram